Kenya Safaris and Tours – 8 Days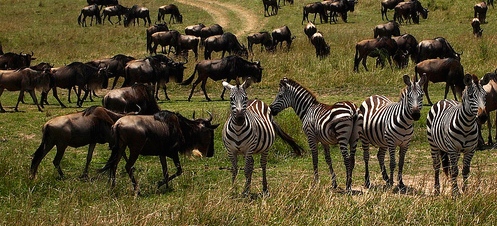 Kenya Safaris
Kenya is a top safari destination where you are bound to view the "Big Five".  The Masai Mara National Reserve is the most popular wildlife park in Kenya, which from July to October has the migration of the wildebeest and zebra. When planning your safari with Spector Travel you will also want to include Mount Kenya  and Lake Nakuru National Parks.

Kenya Trips – 08 Days
Kenya Travel Highlights:
Nairobi, Mount Kenya National Park, Lake Nakuru National Park, Masai Mara National Game Reserve, balloon ride and wildlife game drives for wildebeest migration, lion, elephant, buffalo, black rhino, zebra, bushbuck, waterbuck, leopard, cheetah, flamingo and hippo.
Kenya Tours Include:
Economy, business or first class airfare
Mid-range or luxury tented camps/lodges/hotels
Professional tour guide
Arrival and departure airport transfers
Accommodation taxes and service charges
Entrance fees
Sightseeing and meals per itinerary
"Thank you for all your patience and persistence with this project. We couldn't have chosen a better travel agency." New England Aquarium
You may also like these African Safaris:
Kenya – 9 Days Travel on a deluxe wing safari to Samburu National Reserve, Amboseli National Park, Mount Kenya and Masai Mara
Kenya – 10 Days Kenya is undoubtedly one of the most well known African safari destinations.